Stainless steel buckle, brushed, silicone rubber band.
Product Specifications
-
Length of Item
: 8.5 in
-
Material
: Accents: Stainless Steel
-
Watch Band Material
: Silicone Rubber
-
Material
: Accent Color 1: Silver Tone
-
Clasp /Connector
: Buckle
-
Width of Item
: 24 mm
-
Watch Band Width
: 24
-
Watch Band Width U/M
: mm
-
Product Type
: Accessory
-
Material
: Primary - Color: Black
-
Height
: 6 mm
---
How do I know what width watch band I need?
To determine the width of the watch band/strap, you can measure the band/strap that you currently have. If you don't have a band or strap, you should measure the width between the case lugs of your watch (see the image below.)
Watch bands/straps are measured in millimeters (mm)
, so be sure to use a ruler or measuring tape with millimeters as shown in the image. If you do not see a band/strap that matches your measurement exactly, simply choose the closest size available.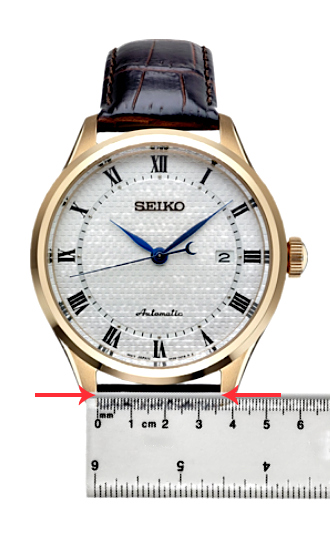 How do I know what length watch band I need?
Watch band/strap length is measured in inches
. If you have a watch band that you can measure, use a ruler or tape measure to measure the length on each side of the watch NOT including the watch case or the buckle. See the image below for an example of how to measure the length.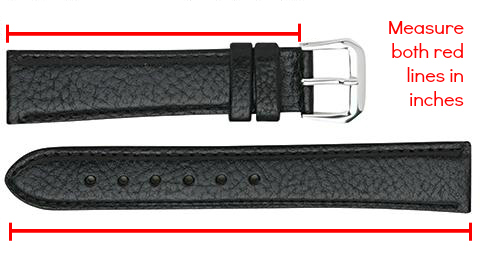 The list above may specify gemstones, but it does not describe whether the gemstones used in the product are natural or synthetic. Please refer to the product title and "details" section for further information.
Please note that certain values, including length, weight, and number of beads/magnets, may vary in items that are available in different sizes.
A length of "0" above indicates that this item can be custom-sized, or that different sizes are available.
Values are subject to change, and should be viewed as a general reference only.

Rembrandt Charms is a family owned company that has been designing and manufacturing charms and charm bracelets for over 50 years. Only Rembrandt Charms offers thousands of charms in such a wide range of precious metals, including Sterling Silver, Gold-Plated, 10 and 14 Karat Yellow Gold, and 14 Karat White Gold. Sterling Silver merchandise is rhodium-plated to prevent tarnishing.
All Rembrandt Charms merchandise is manufactured in the United States or Canada, and is covered by a limited lifetime warranty
, reflecting the craftsmanship, dedication and commitment of the entire staff.

30-day money-back guarantee on all products
Return for full refund of product price. Some restrictions apply, see our
return policies
page for details.