Product Specifications
-
Finish
: Matte
-
Length of Item
: 16.25 in
-
Material
: Primary: Wood
-
Item Weight U/M
: lbs
-
Width of Item
: 8.25 in
-
Product Type
: Gift
-
Sold By Unit
: Each
-
Lining Type (Drawer)
: Velour
-
Material
: Primary - Color: Cherry
-
Gift Type
: Jewelry & Watch Boxes & Cases
-
Height
: 9.5 in
The list above may specify gemstones, but it does not describe whether the gemstones used in the product are natural or synthetic. Please refer to the product title and "details" section for further information.
Please note that certain values, including length, weight, and number of beads/magnets, may vary in items that are available in different sizes.
A length of "0" above indicates that this item can be custom-sized, or that different sizes are available.
Values are subject to change, and should be viewed as a general reference only.

Rembrandt Charms is a family owned company that has been designing and manufacturing charms and charm bracelets for over 50 years. Only Rembrandt Charms offers thousands of charms in such a wide range of precious metals, including Sterling Silver, Gold-Plated, 10 and 14 Karat Yellow Gold, and 14 Karat White Gold. Sterling Silver merchandise is rhodium-plated to prevent tarnishing.
All Rembrandt Charms merchandise is manufactured in the United States or Canada, and is covered by a limited lifetime warranty
, reflecting the craftsmanship, dedication and commitment of the entire staff.

Started in 1968 by Mr. Mel Bernie in Burbank California and considered one of the biggest fashion jewelry manufactures in the USA. For over 46 years, the 1928 Jewelry Company has drawn on a wealth of designs discovered in many unique, unexpected places. From the vaults of rich European capitals to the antique laden attics of old American estates, we've created modern replicas of the most beautiful, exquisite vintage jewelry ever made. Currently, the company has six fashion jewelry brands under its signature brand name. The 1928 brand has sought to provide exceptional value to the fashion savvy consumer who is dedicated to building her vintage jewelry collection with unique accessories. The jewelry in the 1928 collections are designed to respect the details of period pieces while offering fresh design interpretations to fit today's styles and fashions.
"For those who love all things vintage...1928 is for the chic fashionista on the hunt for affordable antique and vintage inspired jewelry and accessories. Our designers take cues from all your favorite eras and fuse them with the latest trends. Take a peek through our site and you'll find styles that are simple and charming, elegant and classy, bold and dramatic or quirky and unique in the form of necklaces, bracelets, earrings, brooches, rings, hair accessories, custom photo jewelry, key rings and more. Whether you're a regular shopper looking for some lovely earrings (yes, we have clip-ons too), a movie wardrobe designer looking for set costume jewelry, or a bride who wants some sparkling shimmer on your white, we really have something for everyone.

We've been featured in Elle, InStyle, W, More, Marie Claire and Lucky magazines. You can also find us at Macy's with our exclusive 2028 line, Sears and hundreds of boutique shops internationally."
Our Brands:
The 2028 Collection
2028 was developed as an exclusive line for Macy's. 2028 features more fashion forward design choices comprised of premium components. The 2028 collection respects our vintage aesthetics while integrating them into a more refined jewelry collection that better fits with modern fashions. Combining feminine charm with modern fashion, the 2028 woman looks for quality and individual style at an exceptional value. The collection is enhanced with noticeable statement pieces that respect vintage aesthetics while integrating them into a more refined fashion jewelry collection that fits with the modern woman.
Downton Abbey® Jewellery Collection
Inspired by the Edwardian and Art Deco jewelry worn during the period of the popular TV drama, this collection was created in collaboration with 1928's designers and the Downton Abbey costume design team in England through an exclusive licensing agreement. The Downton Abbey Jewellery Collection features authentic details and motifs from the late Victorian and early Edwardian eras.
Antiquities Couture
The Antiquities Couture Collection is a distinctive vintage couture-inspired jewelry line created to pay homage to the exquisite design styles of the Renaissance, Victorian and Grecian eras. The collection features finely crafted pendant necklaces, brooches, earrings and bracelets in gold and silver tones with pearls and semi-precious stones.
TRU Collection
Inspired by globetrotters and adventure seekers, T.R.U blends rich cultures and vintage trinkets to dress the bohemian fashionista. Crafted by hand in California using only semi-precious and Swarovski stones, aged suede and leather, gold wiring and tumbled metals, T.R.U. is a one of a kind collection. Explore the deep treasures of the world with T.R.U.
1928 Boutique
Created for the trendsetting fashionista, the Boutique collection offers an upscale alternative to the widely distributed costumer and vintage jewelry collections found in large department stores. Most 1928 Boutique collections are limited edition earrings, necklaces and bracelet sets designed with vintage retro flair. Variety and the spice of life drive the Boutique inspiration, just as the seasons drive the city a jet-setting diva calls home; Paris in the fall, summer in the Hamptons and Christmas in Prague. A rich line for a rich life. Divine.
925, THE PRECIOUS NUMBER
Sleek, expressive and definitely chic, the ELLE Jewelry Collection is lovingly crafted from only 925 Sterling Silver. Each piece understands modern elegance and delivers luxury without being pretentious. The collection reigns in sensuality, simplicity and subtlety.
Each ELLE Jewelry Collection piece is finished with a layer of palladium and a layer of rhodium. This double combination promotes shine and durability, with hypoallergenic materials that resist tarnishing.
» PALLADIUM is a soft silver-white metal that resembles platinum.
» RHODIUM is a precious white metal, is used to give the jewelry a white colour
Ruby Trademark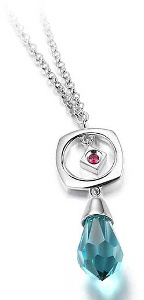 ELLE Jewelry features a signature created ruby trademark, which poignantly symbolizes a woman's inner strength and beauty. The mysterious location of this created ruby set in a square motif changes with every piece, adding a personal touch with a beautiful and unique meaning for the woman who wears it.
ELLE Warranty
ELLE JEWELRY comes with a 1 year warranty against manufacturer's defects. ELLE TIME watches comes with a 2 year warranty against manufacturer's defects. This warranty does not cover "external damage" to the product. ELLEJEWELRY does not service watches with any damages resulting from wear to the watch case, crystal/glass, watch bracelet, watch bezel, straps, screws, crown/stem, finishes, clasps/buckles, or any other physical damage to the watch. Damage that occurs due to having the watch serviced by a third party null and voids the warranty. This limited warranty does not cover any damage if there is evidence of excessive wear and tear, or if used under conditions which exceed the watch manufacturer's water resistance guidelines. Consequential and incidental damages are not recoverable under this warranty or any implied warranties.
When the pure, cool beauty of the Arctic is blended with the simple elegance of Danish design,
a new era dawns: it's Bering-Time.
When a vision is born from an adventure
When Danish adventurer and businessman Rene Kaerskov jumped out of a helicopter into the ice cold of the Arctic, directly over the North Pole in 2008, he had no idea that he was parachuting into a new era.
Because at that moment in time, landing safely at the most northerly point of the globe, his heart was conquered by the cool, simple beauty and infinite white expanse of the eternal ice. Overwhelmed by these fascinating impressions, he also captivated his business partners back home in Denmark with his descriptions of the exquisite splendour of the Arctic landscape. During passionate discussions, the vision of a new watch brand slowly took shape. A watch brand which would be as pure, clear and breathtakingly beautiful as the Arctic itself.
The idea for BERING Watch Design was born.

When one name is responsible for writing history
Exactly 280 years ago, the Danish sailor Vitus Bering braced himself for a daring adventure: in 1728 he set sail for an almost unknown area of the Arctic Ocean. On his journey he crossed the straits which would later be named the Bering Strait in his honour. Vitus Bering was the first European to discover Alaska and it is here that one of the four time zones bears his famous name: Bering-Time!

Treading new ground, venturing into unknown territory: the Danes Vitus Bering and Rene Kaerskoy link these ideas with the BERING brand. This is the only way in which a vision can become reality. And so the brand BERING is successfully made up of the perfect combination of extraordinarily hard materials and an extremely flat design.
When arctic beauty inspires every second
Timelessly beautiful and long-lasting, like the eternal ice, BERING blends minimalistic Danish design and optimal material strength in a unique way. Inspired by the beauty of the arctic, the style of the BERING collection is characterised by clear, streamlined forms and pure elegance. High quality materials such as HighTech- ceramic and sapphire glass, with their extreme scratch resistance and strength, ensure that time leaves no trace.
A brand that redefines time with its love for detail.
It's Bering-Time.

---
BERING watches are made of premium quality materials
that ensure long durability and unite perfectly with the slim design.
HighTech-Ceramic
As well as being highly scratch resistant, HighTech-Ceramic is very light, heat resistant and also anti allergic. The super smooth surface gives the material a unique smooth touch and ensures distinctly comfortable wear.
It is a highly demanding and time consuming manufacturing process which makes HighTech-Ceramic so valuable:
STEP 1
Firstly, fine ceramic powder is pressed into a mould.

STEP 2
Afterwards the material obtains its extreme density and toughness as it is heated in the oven at 1600 degrees centigrade.

STEP 3
After cooling, the material is sanded, shaped and polished, and is now so hard that only a real diamond can finish it.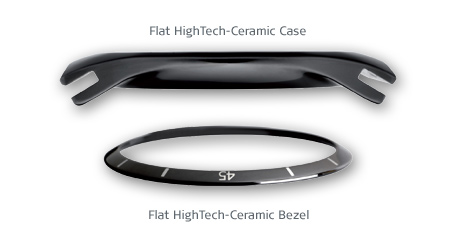 BERING SLIM CERAMIC
As part of their CERAMIC collection, BERING presents a HighTech, scratch resistant ceramic with an unusually flat design. The flowing smooth surface structure of the material perfectly fuses with the simple design of the BERING watch.
BERING SLIM CERAMIC - the perfect symbiosis of minimal
flat design and maximum material strength
Ultra light Titanium
This impressive material is not only anti-allergic, eye catching and stylish, but above all it is ultra light. This will ensure the highest comfort, as the watch will feel light on the wrist. The flat design silhouette of all BERING watches lends to their lightweight comfort and sleek appearance. The look and material unite harmoniously.
Sapphire Glass
Sapphire Glass is a very hard watch glass. BERING Sapphire Glass is scratch-resistant.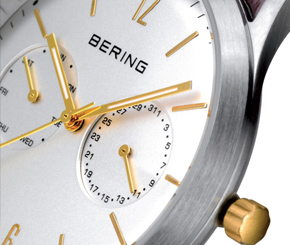 Stainless Steel - the pure aesthetic
This elegant metal guarantees your glamorous watch will stand out in style. The cool look of stainless steel and the pure curves of the BERING watch design complement each other perfectly. BERING achieves this stylish look through the finely brushed or highly polished stainless steel surface.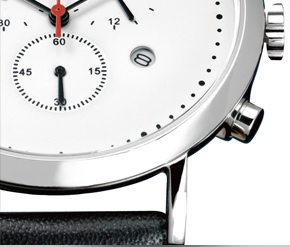 To Get Years of Wear From Your Magnetic Jewelry
- Remove each piece before showering, bathing, swimming, or washing your hands
- Avoid chlorine or salt water, as either may damage your magnetic jewelry
- Do not use any sort of jewelry cleaner or jewelry cleaning machine

To Clean Your Magnetic Jewelry
Wash it by hand in a mild soap solution, then simply rinse. Do not submerge magnetic jewelry in water or let sit in water to soak. Once rinsed of soap, let the jewelry air dry.
Copper Jewelry Skin "Stain"
If you're wearing copper magnetic jewelry, you might find that the jewelry has left a green mark (or stain) on your skin. This is normal and expected to happen. Since copper is a natural element found in the earth it reacts with other elements found in nature. One of those things is your own body chemistry. When copper comes into contact with your skin and sweat it forms green deposits called chelates. Your skin absorbs the chelates, causing the green stain. Many people look for the green stain as proof that the copper is absorbing into their skin. It's a good thing!
If you don't like the green marks left on your skin, you can remove it with some soap and water, and a little light pressure/rubbing.

Many of our customers wear their Sergio Lub bracelets for several years!

The best way to maintain the look of your bracelet is to leave it on while you shower. It's perfectly okay to get your bracelet wet.

To remove smudges and fingerprints simply wipe your bracelet with a soft cloth. For a more thorough cleaning, add some isopropyl alcohol to the cloth and wipe the bracelet.

Sergio Lub use only solid metals (pure copper, jeweler's brass, and German silver), therefore contact with body acids, epidermal oils, or perspiration may cause discoloration or blemishes to the bracelet.

Sergio's bracelets are finished with an organic lacquer to preserve their luster. The lacquer may eventually wear away. This could take days or years depending on the wearer's body chemistry and how often the bracelet is worn.
To preserve or refurbish the shine:
1. Wipe dry with a soft cloth. Shine bracelet with a sunshine cloth or jeweler cloth.
2. Apply a good quality CLEAR GLOSS lacquer and let it dry. (A high quality clear nail polish lacquer will work as well.)
To achieve a soft patina/tarnished look:
1. Remove the original finish with a cotton ball and nail polish remover with acetone.
2. In the case of non-magnetic Sergio Lub bracelets, you may soak the entire piece for 1 1/2 hours.

30-day money-back guarantee
Return for full refund of product price. EXCLUDES PERSONALIZED AND ENGRAVED PRODUCTS. Other restrictions apply, see our
return policies
page for details.
Description
Product Specifications
-
Finish
: Matte
-
Length of Item
: 16.25 in
-
Material
: Primary: Wood
-
Item Weight U/M
: lbs
-
Width of Item
: 8.25 in
-
Product Type
: Gift
-
Sold By Unit
: Each
-
Lining Type (Drawer)
: Velour
-
Material
: Primary - Color: Cherry
-
Gift Type
: Jewelry & Watch Boxes & Cases
-
Height
: 9.5 in
Guarantee

30-day money-back guarantee
Return for full refund of product price. EXCLUDES PERSONALIZED AND ENGRAVED PRODUCTS. Other restrictions apply, see our
return policies
page for details.
Additional Info
The list above may specify gemstones, but it does not describe whether the gemstones used in the product are natural or synthetic. Please refer to the product title and "details" section for further information.
Please note that certain values, including length, weight, and number of beads/magnets, may vary in items that are available in different sizes.
A length of "0" above indicates that this item can be custom-sized, or that different sizes are available.
Values are subject to change, and should be viewed as a general reference only.